Visit Herefordshire and stay with us!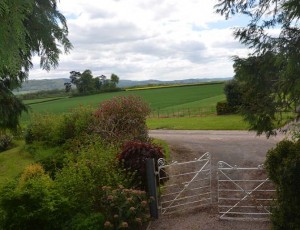 There are many beautiful and peaceful places to visit in Herefordshire, you just need to know where to look and who to ask for inside information and secret places. Spend your precious time off with us in our bed and breakfast or self-catering accommodation.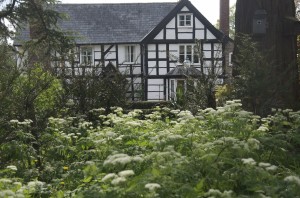 Upper Newton Farmhouse is on the edge of the village of Kinnersley, perched just on the Welsh border. It is a mere 10 miles from Hay-on-Wye and 15 miles from the Cathedral market town of Hereford. The river Wye is just 2 miles away and an ideal destination if you enjoy canoeing, fishing or just idling and paddling with a picnic. Alternatively you could wander around the farm trail, through the bluebell wood, through the apple orchards down to the brook.
Cottage accommodation
We pride ourselves on providing comfortable accommodation. We have two cottages available plus a bedroom in the main farmhouse.
Exclusive use of the cottage: If you book a room in one of the cottages we will not take a booking for the other. You will have complete privacy.
You decide whether to cook: The cottage rooms can be booked either as catered or self-catering. You can cook for yourself or take advantage of Pearl's award-winning farmhouse breakfasts served in the Jacobean farmhouse. If you have a birthday or special celebration we delight in little surprises for you (with a little warning!). We can cater for different diets - just make sure you let us know!
Two cottages to choose from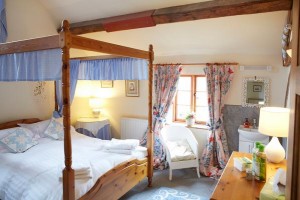 Our guests stay in one of two cottages: Apple Bough Cottage and Chess Cottage. each has a slightly different feel, both are contemporary with character. You can also bring friends and family and book both.
Both cottages have access to the farmhouse garden to wander around and the kitchen garden can be used as a source of ingredients when you want to cook.
The cottages have similar facilities. The main difference between them is that the double bed in Apple bough is a four-poster and the twin beds in Chess can be zipped together to make a king-size double.
Both have:
Open plan dining and living area
Fully equipped kitchen
One double bedroom
One twin bedroom
Upstairs bathroom with bath
Downstairs shower room with a separate toilet
Flat screen TV, free wifi (see below)
Secluded herb garden plus use of 1 acre main garden
Farm trail.
Crisp white bedlinen
The beds are comfy, the towels are soft and the linen is pure cotton and crisp and white. English garden flowers are always in the rooms and scrumptious little cakes or home-made biscuits with tea and coffee are complimentary on your arrival.
Clean bill of health for our environment
Very exciting news – the Wye & Usk Foundation have been to check our good farming practices and environmental impact. They provided a detailed report which identifies (what we already knew) a beautifully clean Kinnersley Brook. Mayfly nymphs, freshwater shrimps and caddis fly larvae were all observed and evidence of otters was found. This was all in early April. The Gnome patrols are obviously working.
Free wifi - caveat
The cottages both have free access to wifi. However, please bear in mind you are renting a rural property in an area of poor broadband coverage and therefore access to the internet may be limited at times.
Pictures of our accommodation