What people say about Upper Newton Farmhouse, Herefordshire Holidays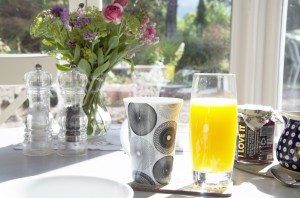 Upper Newton Farmhouse gardens have been enjoyed by guests over 21 years. Some of the comments they have popped in our visitors book show that we exceed expectations. We want to ensure you have a great break and perfect base if staying in Herefordshire for a honeymoon, a wedding, house-hunting, on business or on holiday.
Reading these lovely words makes us want to keep getting better and better.
A sample of guests' reviews
"Kindness, sincere hospitality, friendliness – is a rare thing these days but you have shown us it still exists.  Thank you so much for everything!! We had a great stay."  Ingrid and John, N.Ireland
"Brilliant, one of the nicest breaks I have had. Lovely cottages and excellent bread and eggs" John, Weston-super-Mare
"Thanks for a great sanctuary after our wedding!" Juliet and Ian Murdoch
"Special, thank you."  Kouichi Yoshii, Japan
"Every comfort, a lovely stay. Thank you."  Pam and Geoffrey, West Sussex
"What better place to spend our wedding night"  Chris and Vanessa, New Zealand
"So much care and thought and artistic skill. Thank you for a delightful experience"  Edward and Lilla, Lincolnshire
"We had a lovely stay in this really cosy, beautifully decorated and superbly appointed cottage. Pearl was really helpful in responding to all my email questions before booking and stayed in touch to ensure we had directions and that the timer on the biomass heating system was set to ensure the cottage was toasty warm when we arrived (which was late evening at the end of November). We were made to feel really welcome, with a cake and tea making ingredients waiting for us in the kitchen and crisp sheets and towels in the bedrooms. The beds were really comfy and the bathrooms sparkling. The wood pellet boiler ensured that the cottage was lovely and warm in the mornings and when we returned from our travels in the evenings. Pearl has filled the place with lovely little details that make it feel more like staying in a boutique hotel! The farm is in a lovely setting and very quiet. The gardens around the cottage are really attractive and the owners have clearly gone to a lot of trouble to make the place as eco-friendly and comfortable as possible. I would thoroughly recommend the cottage. Pearl is an excellent host. Many thanks for a great stay." Kinnersley Castle dance guest November 2014
There are also reviews on TripAdvisor
Click on the TripAdvisor logo to read more reviews.